Nuclear reactor fuel assembly
unit: Once used, nuclear fuel can
be recycled and used again—truly
renewable!
Photo courtesy of Nuclear Regulatory Commission; cover design by Alan Yue.
We Need to Reprocess Spent Nuclear Fuel
And Can Do It Safely, at Reasonable Cost



Clinton Bastin
A veteran nuclear reprocessing expert for the U.S. government recounts the little-known history of America's successful reprocessing program, and the unfortunate political decisions to thwart its progress.
The Subject of Principle: Project 'Genesis'



Lyndon H. LaRouche, Jr.
A discussion of issues of epistemology posed by the assumptions in the method of microbiologist
Carl Woese and his associates.
THE ISOTOPE ECONOMY
Producing More and Better Food Using
Nuclear and Stable Isotopes



Marjorie Mazel Hecht
Isotope technologies to increase food production and preserve crops are ready to be mobilized now to help feed the world!
How Food Irradiation Works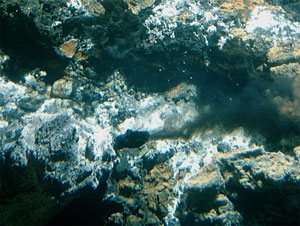 A typical site for Archaea, the new kingdom discovered by microbiologist Carl Woese.
Photo courtesy of NASA
RESEARCH COMMUNICATION
Nuclear Decay Rates and the Cosmos



Zbigniew Jaworowski

VIEWPOINT
Science: The Slide Toward Decadence



T.E. Phipps, Jr.

GLOBAL WARMING UPDATE



Compiled by Gregory Murphy

BOOKS
The Black Hole War: My Battle with
Stephen Hawking to Make the World
Safe for Quantum Mechanics



by Leonard Susskind
Reviewed by Hilton Ratcliffe

Earth: The Biography



A National Geographic Society DVD
Reviewed by Ryan Milton